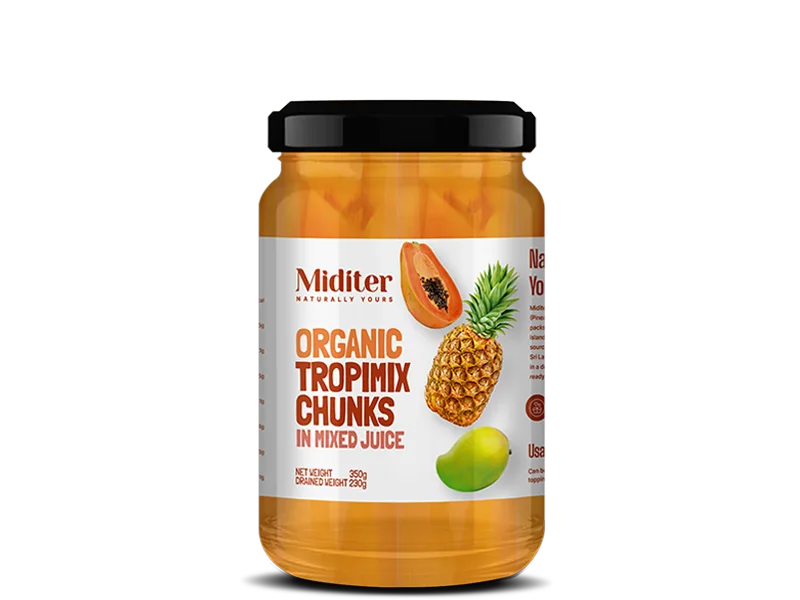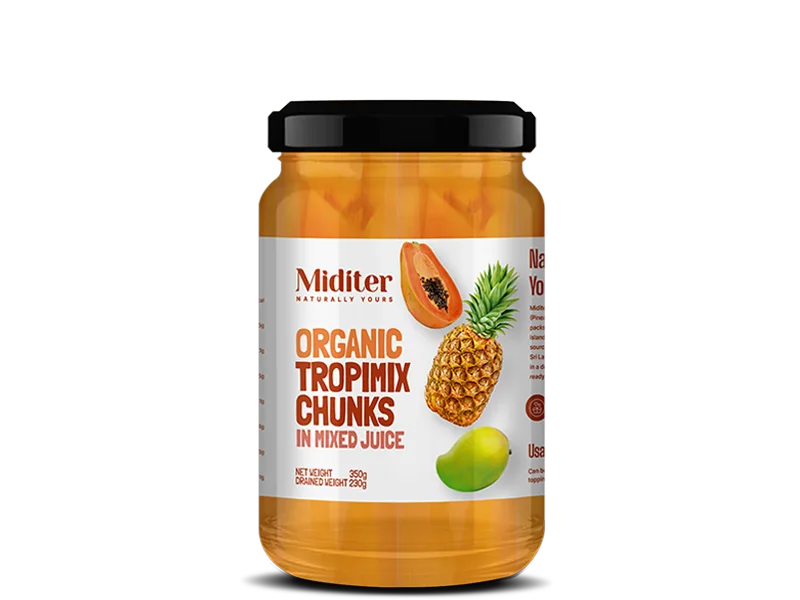 Organic Tropimix Chunks in Mixed Juice
Miditer's Tropimix Chunks (Pineapple, Mango, Melon, and Papaya) 350g packs the sweet aroma of a tropical island in a can. Fresh, tropical fruits sourced from the lush estates of Sri Lanka are perfectly preserved in a delicious Mixed Juice until it's ready to eat.
Suggested Uses
Can be consumed as a fruit salad or blended for a juice
Used as a topping for desserts like cakes, tarts, etc.
Miditer's Tropimix Chunks in Mixed Juice is the perfect way to enjoy the true taste of the tropics. We oversee and manage the entire process from seed to table with local farming communities, to ensure only the best fruits are harvested and packed with care, maintaining the high quality and authenticity of our products.
Miditer's Tropimix Chunks made with pineapple, mango, melon, papaya pieces. Combining the best fruits from the tropical island, enjoy the delicious goodness in every bite.
Pineapples, mangoes, melons and papayas are teeming with a range of benefits that are great for your health and wellbeing. Pineapples are loaded with Vitamin C and are a natural immunity booster. Mangoes are packed with nutrients and polyphenols, which act as antioxidants to protect your body. Melons contain a variety of nutrients that benefit your bone health and is rich in electrolytes and water. Papayas are beneficial to your skin health while also teeming with nutrients that are essential for maintaining a healthy body.
Certifications
Other Products